Display Ideas
Shop / Market Stall Display Ideas for Badges
In future we will be manufacturing our own counter display boxes. Until then, here are some fun ideas for displaying our badges for your customers.

1. Corkboard

Corkboards offer a cheap option for badge displays and are readily available from office supply stores. They come in a range of sizes and are an easy way to display a lot of product. They are also good space savers as they can be fixed to the wall or stood up on a market stall table so they don't take up valuable counter space.
2. DIY Picture Frame

If you're up for getting crafty in your shop display, this is a neat option. The idea is similar to the corkboard display but a bit more fancy. You'll need a picture frame, some corkboard, paint, glue, cardboard and a knife. See this tutorial on Etsy.
3. Compartment Trays

Compartment trays are great for displaying badges with different themes or designs in each compartment. For extra convenience you might like to look for a tray with a detachable lid so at the beginning and end of market day the display is super quick to set up and pack away. Craft storage containers with attached lids can also work.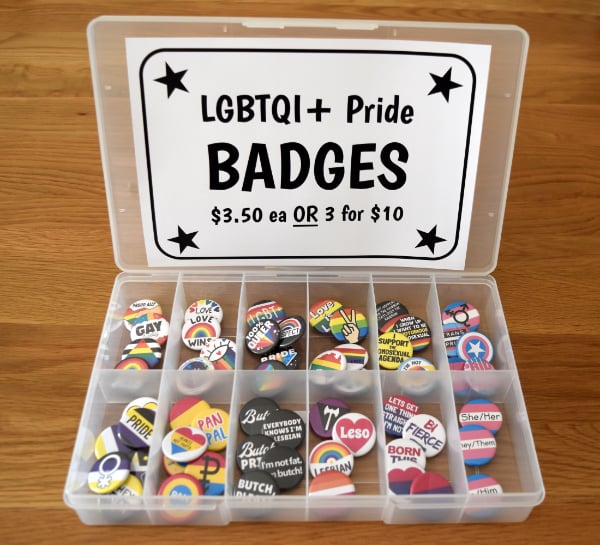 4. Layout on Material or Tray

Some of our customers with market stalls simply lay out the badges on their table top over black material. We have used this method ourselves. It takes a little time to set up each market but always looks great and customers can clearly see all the badge designs without having to rummage through them.
5. Cake Display Stand

Another nice counter top display idea is to put the badges on a dessert stand. We recommend a stand with slightly rounded edges so the badges don't fall off. Apart from looking cute on your stall, having the display slightly raised from the table top means that customers won't have to bend over as much to look at them.
6. Jewellery Cases

If your shop or stall is occasionally visited by those seeking five finger discounts, displaying badges inside a glass top jewellery display box might be the way to go. We suggest displaying at least one badge showing the back so customers can see the pin type without having to handle the item.
7. Other Ideas
If you have your own display idea please let us know so we can share them here.